Departure from the Marina of
– Meeting point at 7:15 a.m.
– Bring sun protection (hat, sunglasses, tee-shirt, non aerosol sunscreen…)
– Tee-shirt for swim (advised)
– Snorkel equipment provided
– Troll Fishing
– Help to manoeuvre the boat (optional)
– Drinks on board
– WC on board
– From December to April you may very well be able to see humpbackwales on your way
On board you'll have time to observe the Coast and  La Pointe des Chateaux
With any luck we'll be accompagnied by Dolphins
Some Turtles will come to the surface to take a breath
And we cools very well see some humpback Whales…
We arrive to the lagoon of Petite Terre, protected by the Corals reef… we're in Paradise !!
Refreshments are welcome…
The Instructions about the natural reserv have to be listened carefully !!
You're finally ready to discover Petite Terre Island. walk and snorkeling !! Meal will be served under the coconuts, in compagny of some bold Iguanas…
– Snorkeling
– Ballads (we propose guided tour)
– Open Bar.
–  Appetizers
– Tomatoes, tabbouleh
– Barbecue with fish or chicken (chose between fish and chicken)
– Creole cooked rice
– Flambéed bananas
– Water, Wine, Coffee, after-dinner liqueur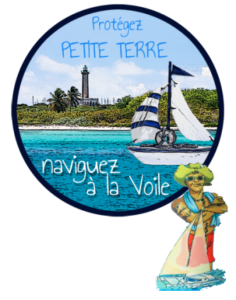 One day on Petite Terre
Departure from the Marina of
– Meeting point at 7:15 a.m.
– Bring sun protection (hat, sunglasses, tee-shirt, non aerosol sunscreen…)
– Tee-shirt for swim (advised)
– Snorkel equipment provided