As part of coral protection, we ask our customers to use "mineral" or "ocean protect" sunscreen. These products are available in our office.
Departure from Marina (Saint-François)
– Appointment at 7:15 am
– In your bag: swimwear, towel, hat, sunglasses, mask and snorkel
– Sun protection: Bio/mineral sunscreen and/or tee-shirt/lycra
Boat Trip ( 1h30 )
– Trolling
– Manoeuvre of the boat (optional)
– Restroom on board
– Dolphins and whales when it's the season
On board you will have the opportunity to observe the coast up to the Pointe des Châteaux and La Désirade.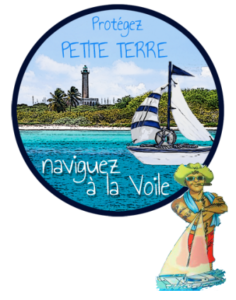 0690 38 58 28
0690 65 53 55 
Prices
100 €
per child -12 years old
40 €
baby (- 2 years old)
Located  8km to the East of La Pointe des Chateaux, isles of Petite Terre, represent a wonderful sea and terrestrial ecologian set.
The richness of Petite Terre comes from the presence of the most important population of Iguanas in the Lesser Antilles, nesting area for many species of marine turtles, and small protected trees with very dense wood called  « Guaiac », wich seemed to have disappared from the Lesser Antilles.
Petite Terre Island is appreciated for its beaches, sea grass,  coral reefs, saline water, submarine fauna :
– Shitty Trooper(black and blue)
– Green Turtle, Hawksbill turtle